Eeva Hanni started working as Materials Manager in December 2022
Eeva's job entails diverse tasks relating to arranging collection and recycling in compliance with producer responsibility. "My role is still partially taking shape and growing with Sumi, when glass, paper, cardboard, metal and wood packaging materials come on board", Eeva tells.
Eeva has a Master of Science (Tech.) degree in paper converting. Eeva has worked as a development engineer with composite materials, and for ten years in waste management in both customer interface as well as service development. Thus, Eeva is familiar with the terminal operations of producer responsibility organisations.
"Working at Sumi gives me a great overview to the packaging industry and circular economy. Environmental issues are close to my heart, and this job gives me the opportunity to work in the core of these matters", Eeva says. "Packaging waste is generated by households and companies. As a producer responsibility organization, we can try to impact what kind of packaging producers are using and placing on markets. Above all, we can provide a solution to how packaging waste sorting succeeds and how collection and recycling can be organized", continues Eeva, who avidly sorts packaging also at home.
Eeva likes being organized and enjoys using Excel. "Luckily I have already been able to do a couple of calculations", she laughs. Eeva likes team work, and also after-work relaxation involves being a part of a group – singing in a choir, playing floorball or exercising with the family.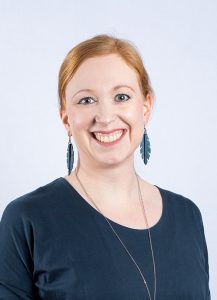 Katja Laitinen works as a recycling coach
"I am an environmental engineer, so circular economy and service development are close to my heart." Katja's role involves, among other things, producing industry specific guidelines together with different stakeholders. So far collection concepts have already been jointly developed for healthcare operators, market gardens and agriculture.
"As a recycling coach I help companies to organize their inhouse collection", Katja tells. Companies are usually keen to start sorting plastic packaging. "Companies are willing to take the trouble and do things right. Recycling different materials is seen as an important way to have an effect on the environment."
Katja has extensive experience of over 20 years from property maintenance services. Her passion is service development and ensuring unparalleled customer service. "My goal is to actively look for new ways to improve quality management and environmental issues", Katja summarizes.
In her free time Katja relaxes while swinging a kettlebell or doing other exercise.
Peter Rasmussen is a director
"After working for a long time abroad, it was interesting to start working for Finnish Plastics Recycling in 2011, as it operates mainly in Finland. In the early days the 2012 Waste Act was being prepared, and also the 2014 Decree on Packaging was being worked on. The decree defined in more detail the transfer of collection responsibility of household plastic packaging to producers from the beginning of 2016", Peter recalls.
Peter thinks it has been great to be involved in the development of a new line of business and a new trade. "In the early days there was a lot to learn about collection, recycling and the use of recycled plastic", Peter tells. During the past few years Peter has been working mostly with legislation issues, and especially with executing the requirements of SUP (Single-use plastics), promoting the design of recyclable packaging and with various research projects, that Sumi participates in.
Before Sumi Peter worked in plastic packaging sales and marketing. In addition to Europe, his sales region covered the Far East and South America. Active participation in the work of the European umbrella organization EPRO has been a natural continuation to his previous experience.
Peter is interested in development work. "I have always been curious about what is going on in our line of business around the world", he says. There is a lot of work to be done with plastic packaging also in the future. "I am looking forward to the interesting things the new packaging materials bring along for Sumi."
After a day at work Peter relaxes by playing golf, exercising and in cultural events.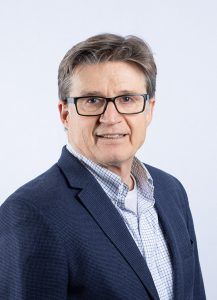 Mika Surakka became the Managing Director of Sumi Ltd in July 2021
"My task is to make Sumi a producer responsibility organization that covers all packaging materials, as well as to execute the changes brought about by legislation to our business. In addition, I am developing the recycling of packaging and looking into new technologies, which will help in getting packaging recycling rates to the level required by EU", Mika tells.
"Packaging producer responsibility organisations are facing significant changes, and solving these, as well as developing the whole industry, motivates me. Sumi is currently in the role of a challenger, which encourages me to look for solutions also beyond established practices."
Mika has a Master of Science (Tech.) degree in Chemical and Process Engineering, and as much as 30 years of experience from waste management and recycling business. "I am a generalist in this line of business, and my wide range of experience helps in solving the operational challenges of a packaging producer responsibility organization", Mika says. Before joining Sumi Mika lived in Poland for nine years. "I worked for three years as the CEO of Wipak Poland, and for six years as an entrepreneur", he tells.
In his free time, you can find Mika walking, running or skiing, both cross-country and downhill. Riding off-road with his enduro motorcycle helps him to disconnect from work.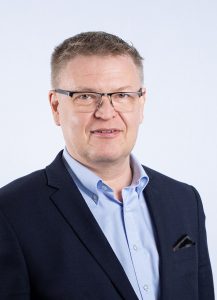 Janne Teliranta started as Account Manager in May 2023
In his work Teliranta will focus on developing procedures and the services offered to our customers in cooperation with the whole chain of operations. He brings us a wealth of experience from the packaging business and will increase our know-how especially in paper and cardboard packaging. 
Teliranta has worked for a long time as the Sales Director at Pa-Hu Oy, guiding the packaging materials company on their path of continuous growth. Teliranta views working with packaging producing responsibility as an interesting opportunity to utilize and increase his knowledge base.
"It is great to see the packaging life cycle all the way to the end, and to be able to have an effect on the development of producer responsibility within the continuously changing business environment and legislation. I like the saying: "Nothing is permanent except change", and now I can prove it", Teliranta summarizes.
Work plays a big role in Janne's life – without forgetting the free time, when he is most likely to be found doing sports. "The best way to let work duties out of mind is to pull the floorball goalie's equipment on and catch balls for a while or go to the gym to sweat. Frisbee golf is also a nice way to get outside and meet friends," says Janne.